Interested in learning to play the harp?
Check out www.harplessonsinvictoria.com
Welcome to Realely Productions!
Here you will find information about harpist Elizabeth Ely and her recordings. Arranging a lot of music herself, she played everything from Pachelbel's Canon in D to Star Trek to Clair de Lune to Stairway to Heaven. Read more about Elizabeth and her approach to music.
Her last CD From My Harp continued the eclectic mix, with selections ranging from Smetana's The Moldau to Iron Butterfly's In A Gadda Da Vida.
Update: Elizabeth has made an exciting career change and has retired from harp playing. She wishes to thank everyone for all their support and appreciation over the years, and all the happy memories, and hopes you are able to continue to enjoy her music via her recordings. "Best wishes for always and may all your dreams come true - happy life!"
Check out I Want To Marry Ryan Banks. Elizabeth played the harp in this 2004 ABC Family TV movie. "Everyone (Jason Priestly, Bradley Cooper, Emma Caulfield, director Sheldon Larry, and all the rest of the cast and crew) was just so wonderful and friendly and helpful...truly a memorable experience." -Elizabeth
Behind the scenes video clip
Elizabeth was the resident harpist for the Empress Room at the Fairmont Empress for 15 years. www.fairmont.com/empress Sadly the music has now been discontinued there. "I want to thank all the faithful, loyal, and appreciative listeners over the years - it's been my great pleasure meeting and playing for you - truly extended family - I wish you all, all the very best, and look forward to our paths crossing again!" -Elizabeth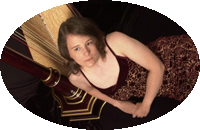 Newspaper Interview with Elizabeth
Read of the special significance Titanic and
My Heart Will Go On holds for Elizabeth.