As resident harpist at The Empress hotel, Elizabeth Ely blends the romance of her stringed instrument with some definitely un-classical music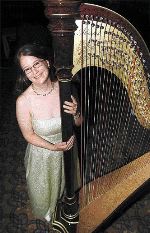 CREDIT: Deddeda Stemler, Times Colonist
The rippling romance of the harp and the edgy drive of rock and roll don't seem to have much in common. Except in the hands of Elizabeth Ely, a Victoria harpist whose repertoire includes tunes by Led Zeppelin, Iron Butterfly and The Doors.
Familiar melodies such as In A Gadda Da Vida and Light My Fire are often startling for the diners in the Empress Room at The Fairmont Empress hotel, where she has performed five nights a week for more than a decade. "I've had classical music fans come and ask me what that is," she said. "And they look quite disillusioned when I tell them it's Stairway to Heaven or Smoke on the Water. And yet they've enjoyed it so it's really neat to bridge that gap."
Clad in flowing evening gowns rather than rocker chick black leather, Ely is stretching the harp's traditionally small repertoire, arranging rock tunes as well as classical favourites for a new audience. Most harpists specialize in weddings and other private affairs, but Ely's been playing fulltime at the Empress for 11 years, relishing the old-fashioned idea of performing background music in a dining room where people are talking and eating.
Seated in the midst of the diners, she often looks up to see the faces of familiar entertainers from Roger Moore to Tom Jones. She even got a fan letter from actor Dirk Benedict telling her he plays her CD every weekend while making breakfast.
Her $40,000 instrument, a French-made pedal harp, is so familiar that it feels like an extension of her body. "It just flows directly through to my hands," she said. "I'm really experiencing it as I'm playing it."
Although the harp may look angelic and effortless, with its seven pedals, playing the monstrous instrument is like embracing a piano or be-bopping on a stairclimber. Technically, it can be hellish rather than heavenly. The harp has fewer strings per octave than a piano, relying on the pedals to create the extra tones. Every so often, one of the high tension wires breaks with a sound like a gunshot in the middle of a performance, says Ely. The trick is to maintain her poise and continue the melody regardless.
This year the 36-year-old musician celebrates her 30th anniversary playing at The Empress hotel. She gave her first public performance -- Silent Night -- at a Christmas tea at the hotel at the age of five.
Born in Memphis, Tenn., Ely came to Victoria in 1970 when her parents arrived to play for the Victoria Symphony. The daughter of Victoria harpist Kathryn Ely, Elizabeth treated the harp like another dollhouse or puzzle. She got her first blister from too much string plucking at the age of three. "I just sat down imitating her," she said of her mother.
By the age of 12, she began playing in orchestras, but she prefers to be a solo act than an adjunct performer, blending in with a group. "You're not counting measures and rests," said Ely, who graduated from Oak Bay high school.
After earning a music performance degree from the University of Toronto, she pulled some strings as an entertainer on cruise ships in Alaska and the Caribbean for several years. "A lot of times we'd be outrunning hurricanes," she said of the end-of-season runs on the ships. To protect her harp from the rolling motion of the ship, it was tethered to the ceiling.
Unlike many musicians, Ely has catholic tastes that extend beyond one area. That's why on her three self-produced CDs, she plays everything from Bach and Pachelbel's Canon in D to movie themes from Star Trek and Titanic. "They are not so far apart really," she said of her repertoire choices. "If it's a good piece of music, it's a good piece of music." No strings attached.
Profile of Elizabeth Ely