A NOVEL by ELIZABETH ELY
Want an Autographed Copy?
Click here.
(General fiction – Contemporary romance)
---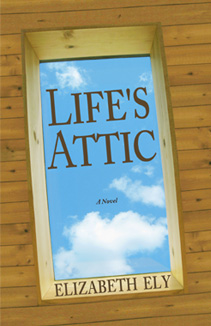 "An insightful story of facing hardship as a couple and coping with mortality, "Life's Attic" is a fine addition to any contemporary collection of fiction, recommended." (Full review here)
~ Midwest Book Review
"Just finished reading your book. WOW!!! It is truly a beautiful study of pure love, devotion, life, death and so much more. I savored every word and truly enjoyed it! I look forward to reading your next one!"
~ Kathleen Gati
FROM THE BACK COVER:
In the fictional West Coast town of Clementine, Leanne Porter is about to meet Jay Hanson. There's just one problem. Jay has AIDS. But will that stop them from loving each other? And what will their lives be as a result of this chance meeting?
Two thinkers who are great talkers, Jay and Leanne remain true to themselves, facing tough inevitabilities head-on with humour, optimism, and joy. Life's Attic is a journey of hope and happiness amid the challenges of life and death. Life has many forms. So does love.
Click here to read an excerpt on this site or visit any of the Amazon
sites to look inside Life's Attic thanks to their "Search Inside This Book" feature.

BOOK DETAILS
Trade Paperback: 318 pages
Publisher: Barbauld Publishing
Language: English
ISBN-10: 0987790803
ISBN-13: 978-0987790804
Product Dimensions: 8 x 5.2 x 0.7 inches


October 23rd 2012 Press Release [pdf] [doc]
Read about the author.
Watch for upcoming posts from Elizabeth on why and how she writes.

ONLINE RETAILERS OF LIFE'S ATTIC INCLUDE:
Amazon

Amazon Canada

Amazon UK (and all other regional Amazon sites)
Book Depository
Alibris
Books-A-Million
Powell's
AbeBooks NEW!
Barnes & Noble NEW!



ORDER AN AUTOGRAPHED COPY OF LIFE'S ATTIC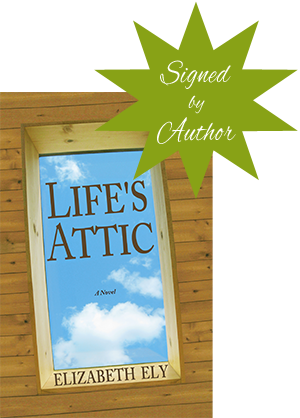 Order Life's Attic ($15.95 plus S&H) through this site using PayPal and Elizabeth will be pleased to sign the book for you.
For a personalized copy, please indicate the name of the person you'd like the book inscribed to. For instance, "For Jane Doe."
If no inscription request is made, Elizabeth will just sign her name on your copy.
PLEASE ENTER ORDERING CHOICES BELOW
Any Questions? Send Elizabeth a message.
Never used PayPal before? Read all about this safe and secure payment method here.