Life's Attic has just been reviewed by Midwest Book Review. Yay! They review less than a third of submitted titles, so I'm very excited that they chose to review mine. Established in 1976, the Midwest Book Review publishes a number of monthly book publications specifically designed for community and academic librarians, booksellers, and the general reading public.
Life's Attic is featured in the January 2013 issue of their Small Press Bookwatch publication. Here's what they have to say: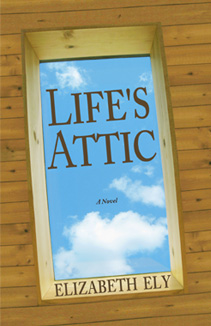 Love can bloom anywhere, even when it may be problematic. "Life's Attic" is a novel from Elizabeth Ely, who tells of Leanne Porter and her romance with Jay Hanson. They grow to find love, but Jay's condition of carrying AIDS threatens their future and potential for love and family. An insightful story of facing hardship as a couple and coping with mortality, "Life's Attic" is a fine addition to any contemporary collection of fiction, recommended.
Read an excerpt of the novel on this site or visit any of the Amazon sites to look inside Life's Attic thanks to their "Search Inside This Book" feature.
Interested in an Autographed Copy? Click here for more information.

Online retailers of Life's Attic include:
Amazon
Amazon Canada
Amazon UK(and all other regional Amazon sites)
Book Depository
Alibris
Books-A-Million
Powell's
AbeBooks
Barnes & Noble