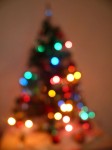 I thought it might be fun and festive to post a Christmas excerpt from Life's Attic. As luck would have it, the timing feels perfect since we can join Jay and Leanne as they awake on the same day as this post, November 30th. Hope you enjoy!

"TOMORROW IS DECEMBER 1," Leanne blurted out when they woke the next morning. Her eyes were dancing with delight.
"And today's November 30." Jay played dumb. He knew full well what the first day of December meant to Leanne, but he couldn't resist hearing her describe it to him again.
"As if you don't remember. It's tree day!" Leanne was bubbling over with excitement. "And the official start to the Christmas season. You have go out first thing and look at absolutely a ton of trees, picking your favourite shape for the year. It could be dense and strong to hold the heavier ornaments you can't always use. Or it could the more open and delicate kind for the Charlie Brown years. But whatever the size and type, you've got to smell every one. And shake them all for loose needles. And the final test? Tasting a needle or two to make sure it's nice and piney, really Christmassy." Leanne's face lit up like a child on Christmas morning. And this was from only thinking about it. "The tree's the best part. It feels like Christmas itself gets brought right inside your home, to see, smell, touch—"
"Taste." Jay laughed. "I never thought I'd be looking forward to eating a tree, but you've got me curious. Continue reading