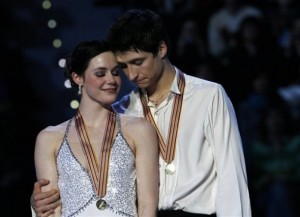 The World Figure Skating Championships in an Olympic Year have a different feel from the other three years of the Olympic quadrennial. Many at the top retire after that four year ultimate goal is realized. But the season is not over until after the World Championships. One can argue the pros and cons of having the big names stay away. On the one hand it does give a chance for the younger up and coming skaters to get more experience, sooner rather than later. But since the results at this year's Worlds determines how many skaters each country can send to next year's World Championships, part of me feels like the out-going skaters should do their best to provide those places for the next generation, as was hopefully done for them years before.
I've heard comments that the winners at the Olympics have nothing to gain by competing at the same year's World Championships, but they have everything to lose. I see their point. This is a competition with great risks, and if they fail to repeat their recent victory, will their Olympic medal somehow be tarnished? Possibly, in the eyes of some. But I don't think it should be; nothing can take away from what they accomplished. At those moments, they were the best in the world, all under the huge pressure of the Olympic Games. Nothing can change that. They will forever be Olympic Gold Medalists. But too often it seems, as soon as that's achieved, that's it, no appearance at that year's World Championships. Just too big a risk.
That's why I think I have such added respect for Olympic ice dance champions Tessa Virtue and Scott Moir, and Olympic ladies champion Yu Na Kim. These are the 2010 gold medalists who chose to put it all on the line again, and competed at this week's World Championships in Turin, Italy. While Virtue and Moir gloriously repeated their victory, it was not quite as flawless as in Vancouver, and they actually came in second in the free program, to amazing training mates Meryl Davis and Charlie White. Yu Na Kim had a less successful competition this time around, but rallied from a tough short program to still win Silver.
Tessa Virtue has said, "There was a letdown [after the Olympics] and we were expecting it…as soon as we got home we both crashed. Both physically and mentally it's hard to gear back up for a big event like this, but we found comfort in skating again and our skating stepped it up a notch…We found some new fire coming in here [to the Worlds]. We wanted this title…It wasn't an easy week of competition but I think we can be proud of what we did on the ice.
"I'm sure a lot of the teams were feeling much the same as we were. There was that letdown after the Olympics and it's hard to carry that momentum through and get the energy to compete again…it was just a general fatigue after the intensity of the Games." Yet despite all this, they completed their seasons, and showed they're not afraid to keep on taking risks. They put themselves and their reputations on the line. How hard must it be to keep on competing when there's so much to lose? After all, there's no where to go but down when you're Olympic Champion. But in my mind they found a way. Up, as in earning even greater respect and admiration, that they went to Italy, and skated in the final competition of the 2009-2010 season.
I hope they continue competitively for a long time to come – such incredible talent and athletic ability all combined with such artistry and creativity – I selfishly want to see much more. But more than that, I want whatever is best for them, whatever they choose. And I thank them for having the heart, courage, and fortitude to go to Worlds after their Olympic victories. True Champions.
Coverage of the 2010 World Figure Skating Championships:
Watch CBC's main network coverage (including the Ice Dancing Free Skate on Friday, March 26th 2010)
(Virtue and Moir's skate starts at about the 1 hour 2 minute mark)
Watch CBC's main network coverage of the Ladies Free Skate on Saturday, March 27th 2010
(Kim's skate starts at about the 19 minute mark)