For all the obvious immense, beyond all words, damage and destruction thanks to the BP Deepwater Horizon disaster, there's some damage you can't see. Water that looks pretty normal to the naked eye is most definitely not normal. In fact, a sample of water collected off the coast of Alabama actually exploded.
WKRG News in Mobile, Ala. recently investigated just how much oil and petroleum is currently in the water and sand along their shores. WKRG anchor Jessica Taloney took samples from seven popular tourist destinations including Orange Beach, Katrina Key, Gulf Shores, and Dauphin Island, and gave them to chemist Bob Newman for testing. While according to Newman there should have been no traces of oil or petroleum in the sand or water collected, given the catastrophic events in the Gulf, he expected there still to be no more that five parts per million of oil or petroleum.
But that is not what he found. The 'best' result, the one with the lowest amount of oil and petroleum, actually had more than three times his maximum estimate – the water from Katrina Key had 16 parts per million. The highest concentration, that was able to be tested, had 221 parts per million, more than 44 times Newman's maximum expected given the circumstances. And get this, that sample came from a pool of water that a child was playing in when the sample was collected. Pretty unnerving as well, to see that actually happening in WKRG's investigative video report below.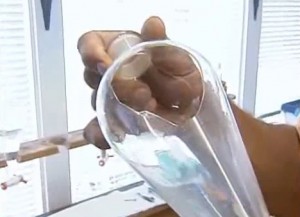 While this was worst sample that was successfully tested, it wasn't the scariest sample. The testing process was the same for all the samples, but in the case of the water taken from Dauphin Island Marina (near an oil containment boom, but the water looked in line with the other samples), that one exploded before Newman's testing could be completed. As soon as he added the same organic solvent used with all the samples, this water exploded, blowing a whole in its glass container.
Newman thinks this probably happened because of methane gas or chemical oil dispersant in the water. Makes the name of the dispersant Corexit more than a little ironic. If it was the dispersant that caused the explosion in Newman's lab, it doesn't sound like it's correcting much. Hopefully we'll find out exactly what's in that water. WKRG has said they are going to collect another sample and have it tested in other ways – so there can actually be a quantifiable result for exactly what's contaminating the water and made it explode.
Mediaite.com sure made a keen observation when they said it "gives a whole new meaning to 'oil containment boom,' doesn't it?"
Ironic, and also beyond words, that this mess started with an explosion on the oil rig, and now continues with the water. As if we didn't already know oil and water don't mix. In this case, they explode.