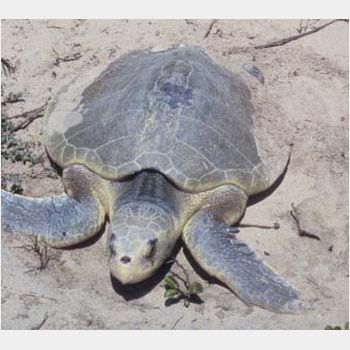 Good news on the endangered turtle front in the Gulf of Mexico. Especially for the Kemp's Ridley turtle that the National Oceanic and Atmospheric Administration (NOAA) has said is the rarest and most threatened. Reuters reported Saturday that, "Environmental groups, BP (BP.N) (BP.L) and the U.S. Coast Guard reached tentative agreement on Friday on measures to prevent sea turtles from being incinerated alive in controlled burns of spilled oil in the Gulf of Mexico."
Four conservation groups (Turtle Island Restoration Network, Animal Legal Defense Fund, Animal Welfare Institute, and the Center for Biological Diversity) had brought a lawsuit against BP accusing them of "violating the U.S. Endangered Species Act and terms of its lease with the federal government for the deep-sea well that ruptured on April 20, unleashing the worst offshore spill in U.S. history."
The Washington Post reported the "two sides have agreed the Coast Guard will soon convene a group of scientists to determine how best to ensure that no endangered sea turtles die during controlled burns. The environmental groups will have input into assembling the group of experts."
Instead of a court ruling, everyone agreed to a plan that will allow "biologists or other trained wildlife observers to accompany oil-incineration vessels at sea to remove as many turtles as possible from designated areas before burning starts." The controlled burns were already put on hold because of rough seas in the Gulf, but are scheduled to resume on Tuesday.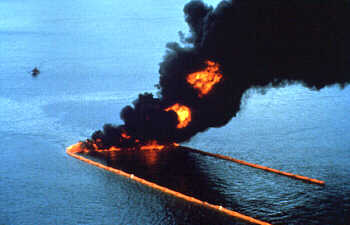 U.S. District Judge Carl Barbier is presiding over the case and has said, "The parties have agreed between now and next week on implementing an additional measures to ensure any endangered species are protected…We are not going to litigate today." Also as part of the agreement, if BP and the Coast Guard don't have qualified turtle observers (a job description I never thought I'd hear) on every boat by Tuesday when burning is scheduled to resume, they could find themselves back in court. As head of the Turtle Island Restoration Network, Todd Steiner has said, "If they cannot make that assurance, we will be back before Judge Barbier."
There are so many suffering parties thanks to that blasted blast that's flooding our ocean with dinosaur remains. So many injured parties. It's good to know the sea turtles and other endangered animals have such caring and effective human advocates. And I don't just mean the conservation groups, but all the countless individuals who reacted once they knew what was happening. Kierán Suckling, Executive Director of the Center for Biological Diversity, noted the agreement came after attention "turned the public spotlight on BP by hand-delivering tens of thousands of petition signatures to the oil company, calling for an end to this gruesome practice."
I'm reminded of that great quote, "Mourn the losses, because they are many; but celebrate the victories, because they are few." Hopefully this one will remain a victory.